We manufacture precision engineered car turntables for exhibition and driveway use.
Our quiet motorised design is ultra thin so can be laid directly onto any surface.
Our turntables enable parking in narrow driveways eliminating dangerous reversing and the increased flexibility can allow for additional parking. They can often help you obtain planning consent too.
Ultra Thin
Our turntables are as little as 35mm high! This means it can easily be laid straight onto your existing driveway or showroom floor doing away with the all the expenses and complications associated with large groundworks.
Smooth operation
We use a 3 phase motor with an inverter drive allowing you to connect to a standard 230v mains supply but with all the advantages of an intelligent 3 phase drive system. The motor has fully adjustable speed with customisable acceleration and deacceleration to give a soft, smooth turn every time.
Precision engineering
We use high grade aluminium treadplate lasercut to sub-millimeter accuracy. Internal parts are made from high spec engineering nylons and stainless steel tested for their reliability and long term durability. We pride ourselves with our impeccable attention to detail assuring you a sound investment.
Built for safety
Manufactured to our strict quality standards the turntable meets all ESHR legal directives. No small gaps ensures maximum safety for your kids.
British Made
Our turntables are designed, manufactured and assembled here in the UK.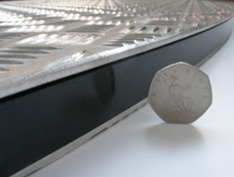 Turntable
We manufactor a range of turntables in use around the world installed in driveways, car parks, underground garages, as part of exhibition stands, in car showrooms and photographic studios.
Our primary car turntables are listed below, contact us for prices.
4.5m
4.5m Standard Car Turntable:
This is our best selling turntable and will comfortably fit most cars and small vans. It has proven especially popular for showroom & photo studio applications.
5.5m
5.5m Luxury Car & Van Turntable:
Our largest turntable provides space for long luxury vehicles and will allow turning of long wheel base vans.
Motor & Control
Capable of turning up to 3 tons and suitable for regular periods of continuous use. Choice of control panel or keyfob remote control.
Below Ground Motor
Suitable for permanent installations such as driveways. Requires a small hole on the perimeter (20cm deep).
Above Ground Motor
Surface mount avoids any ground work, perfect for temporary displays. Unique offset design to ensure any car overhang will clear the motor box.
Delivery & Assembly
Our turntables need a solid flat surface on which to be installed and a 230v mains supply.
It can be surface mounted or flush fitted.
Standard delivery to UK mainland
Usually completed in a day, we can deliver and assemble the turntable.
Contact us for a personalised quote.
Intenational Shipping
We also ship abroad.
Get in touch to discuss shipping options.
Enquiries
The EasyTurn turntable design has been acquired by AutosOnShow, part of Constellation Automotive Group, please see their website for further information of their video and imagery solutions.
Preacquisition Sales
For after sales services of turntables sold by EasyTurn Ltd before 10th June 2022 please email [email protected]